30 years racing experience
Pierre Thiebaut created his company in 1978. Thiebaut Racing's business was basically focused on the preparation of VW Golf race track and rally car. Our first title was the victory at a regional championship in Liège with Probst in 1981.
The birth of a cross-border reputation
In 1986, Pierre Thiebaut decided to build his own security roll cage for Jean Pierre Van de Wauwer's Toyota Corolla 16S in Cameroon. Van de Wauwer's victory in Cameroon and his World Championship race in Ivory Coast with his Toyota Corolla 16S enhanced Pierre Thiebaut's renown.
Progressively, Thiebaut Racing's market became larger and larger and victories and titles followed.
In 1993, Thiebaut Racing was contracted to build the body of a group N Celica for TTE. Our quality and know-how was noticed by the constructor and a close collaboration began. We gradually got involved in the study and building of some Corolla WRC's body parts, notably for Safari Rally. We have also been made responsible for the restoration of damaged bodies.
This collaboration core business splits in two main activities : body shop (body conception and building) and painting shop (finishing of visible car parts).
Today, we closely collaborate with TTE engineers teams, but also for other car preparator such as PSi, ELR, AD Sport, Gillet Automobiles, LO Racing and we also notably work on prototypes, GT2, GT3, GT4 and many company or private projects.
Early days
Africa
Rallye
Radicals
GT One
GT2, GT3, GT4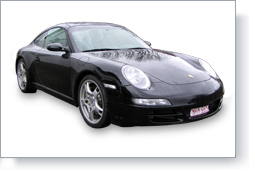 GT4 préparation